Bob loves music, and Bob loves you. Which is why Bob is always playing a mix of music you can't hear anywhere else. Of course, he doesn't throw any old song in the line-up. He only plays the songs he's crazy about. And yeah...sometimes his friends will try to get him to throw something in they like, but then Bob reminds them that the station isn't named "Gary" or "Jim." It's named Bob, and then he laughs loudly and for quite some time.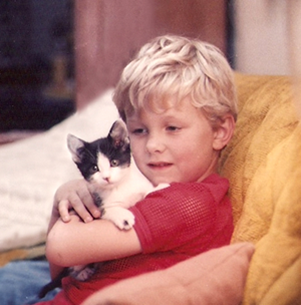 Bob grew up on the south side of Lafayette and by the age of five, he was already telling his Dad which records would last and which ones would fade away with time. He often walked around with his mother's hair brush in his hand, talking into as if he were introducing songs to millions of adoring fans. Occassionally Pete, his cat, would be a guest on his show, but the only contirubtions Pete ever made were little meows of annoyance for having to wear a cape.
As I'm sure you've already guessed, the picture to the left is of Bob and Pete.
When Bob was in high school, he cared more about good tunes than girlfriends. (Though, trust me, he caught up later.) Instead of spending Friday nights at football games or walking around Purdue campus, Bob would drive around in his '73 Plymouth Duster (yup, it was powder blue) completely absorbed in whatever was on the radio. Life was good, and he couldn't even imagine that it would get better.
In college, Bob learned the "how to" on tape editing, answering phone calls, and pretty much everything that was needed to know about how to be a DJ. In his apartment, he spent his nights listening to entire albums because he never believed that the best song a band produced was necessarily the single. (That's why you'll occassionally hear some out-of-the blue song on BOB-FM.)
After years working in different places around the nation, Bob came home to start up his own radio station. He plays what he wants. Sometimes, you'll hear a song he's loving at the moment a few times throughout the week and then not hear it again for a month. Other times, it's a song that he hasn't heard in a few years. Either way, Bob's a mixed bag. His love of all kind of music makes sure of that.